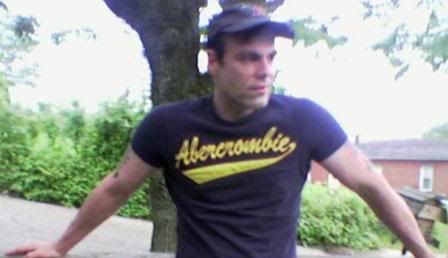 LISTED INFLUENCES:
Morrissey. Mother Love Bone. Sinatra.

UNLISTED INFLUENCES:
Moisturizer. Fraternity tattoos. Aftershave and lots of it.

MEET THE MONSTERS:
Beware of singer/songwriters wearing Abercrombie & Finch t-shirts. Pittsburgh's SHAWN CROSBY (of THE SHAWN CROSBY BAND) entertains visitors to his myspace photo page with enthusiastic descriptions of the clothes he's wearing ("Shirt by B. Repulic jeans n belt by Express!!!!!" "Shirt: B.Republic Jeans:1969 by GAP Damn Right!") and not one, but TWO shirtless pics. And look at the one where he cradles his guitar so tenderly, as if he's not exactly sure how to play it.


SONG ANALYSIS:
A song with a title such as "She Thinks I'm Gay" would seem to write itself. Obviously not. Crosby attempts to sing in swaggers over poorly mixed guitars & laptop percussion created by someone with a deaf carnival worker's knowledge of drum programming. The song's lyrics deal with a girl who thinks that our buddy Shawn Crosby is a homo-gay because he won't talk to her. We are to believe that this is an inaccurate way to assess Crosby's sexual orientation. Of course, a better indication of gayness would be his unquenchable thirst for cock.

BLOG ABOUT:
The new album he's recording which, "rights and red tape permitting," will include a Morrissey cover. I can't not wait.

COMING TO YOUR TOWN:
"7 Months ago Shawn entered and won an Acoustic singer/songwriter competition. The response from the crowd was so positive that many live engagements would follow."
Note to Shawn: playing Dave Matthews Band covers at your niece's Sweet Sixteen party doesn't exactly qualify as "many live engagements."
*Mr. Crosby responds: Greetings Cocksmoker, I must say I was honored to be the first to be reviewed by you blog and while I found it to be a bit funny, at the same time I must request that if you live in the Pittsburgh or surrounding area(s) that we can meet for about 3 minutes. IN this three minutes...this abercrombie wearing singer will beat your polesmokin ass. But if you dont reside in the area, you lucked out. I must admit the band below me.....that review made me laugh as well. I just decided I dont want to beat your ass afterall....it was kinda funny...ok changed my mind I will beat your A&F hatin' ass. NO wait..im working on this new leaf thing...I decided I wont beat your polesmokin ass...just know that I could. Have a blessed day.

ARMY OF FRESHMAN

LISTED INFLUENCES:
You know you're in for a treat when a band lists itself as its sole influence. Oh, and they "sound like" themselves, too. Let's hope they're the only ones.

UNLISTED INFLUENCES:
Ric Ocasek's farts. Enuff-Z-Nuff. Asbestos disguised as cotton candy.

MEET THE MONSTERS:
The Ventura, California sextet ARMY OF FRESHMAN joyfully harmonize and (attempt to) happily thrash through cookie-cutter pop punk anthems about young life and young love. Vocalist Chris Jay lets his sinuses do the singing, shifting from chalkboard-grating, punky whine on the verses to chorus harmonies that were ripped out of a page from the Gunnar & Matthew Nelson songbook. The music is standard issue Cali Emo-Pop, everything over-produced and radio-ready.

If anything, what (barely) sets these weasels apart from their West Coast neighbors & other O.C. soundtrack contributors is the addition of an extra set of synth keys playing happy-dippy Rentals-esque three-note leads over the four-chord riff-rock progressions. Hey, ARMY OF FRESHMAN! Matt Sharp called and he wants his lame-ass sound back. And he wants to know if you can hook up his fat, one-trick pony ass with some blow and underage girls.

SONG ANALYSIS:
The song "Get 'Em Up" seems to be a call to soldiers overseas who get to "go home" now that "the war is over." Maybe they're talking about the Cola Wars of the 1980s 'cause my friend J.J. just got called up to serve. Again. I wonder if you could write an up-tempo rocker about that? I'm sure these cock-fondlers could: "I'm here to tell you / You're goin' back to that hellish sandpit / to fight for out-dated, counterproductive religious & political ideologies / that only serve to suppress the minds and economic potential of the poor and under-educated / while creating a constant, oppressive cycle of wealth & independent power / incestuously intertwined with global trade practices and mass marketing of pop culture." Though, AOF could probably make it rhyme better.

My worst fears about young Americans in combat are realized as the lyrics reference "visions of Metal Gear." Apparently, years of button-mashing on your PS2 console can effectively prepare you to violently liberate a foreign nation.

The closing stanza, drenched in reverb, informs the listener that "the Unknown soldier finally scores," which if you think about it, could be some twisted allusion to patriotic necrophilia.

BLOG ABOUT:
The band's "studio logs" playfully reveal the coma-inducing events behind their latest recording sessions. You stayed in a hotel!? You picked someone up from the airport?! You ate dinner!? Wow! Keep me updated. Asshats.

COMING TO YOUR TOWN:
ARMY OF FRESHMAN play the Novato Teen Center in Novato, CA on June 11.


FOUR LETTER LIE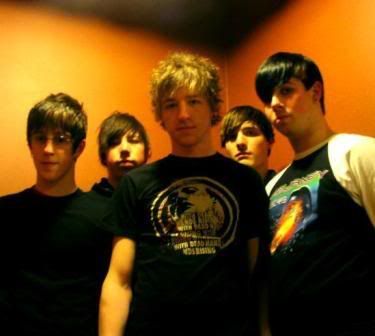 LISTED INFLUENCES:
Skateboard & clothing companies, aptly enough as they sound like the kind of music you'd hear being played at Hot Topic. FOUR LETTER LIE also "sounds like" themselves. This is a horrible trend in myspace music & the most obvious thing these guys could do to sound better is to NOT sound like themselves. What about The Stooges? That was a good band. Try sounding like them. It worked for The Strokes.

UNLISTED INFLUENCES:
chronic acne. biker chain wallets. being molested by an uncle.

MEET THE MONSTERS:
This Minneapolis five piece write dirges & ditties about longing and pain and sorrow and all that other emotionally-stunting garbage that handsome white dudes write about in order to "connect" with an audience of fat girls & RPG aficionados. FOUR LETTER LIE subscribes to the popular trend of having sing-songy vocals share space with death metal howls. They also have a lifetime subscription to "QUIET VERSE/LOUD CHORUS" magazine. Groundbreaking, guys.

SONG ANALYSIS:
An obvious & forced deviation from their usual migraine-inflicting style, "Stay For A Lifetime" is a plodding, acoustic ballad with all the force and impact of a half-eaten ice cream cone falling into the ocean. Singer Brian Nagan mope-croons like a castrated Rob Thomas over melancholy chords that emote like Marcel Marceau in a heroin coma. About 4 minutes into the song, the instruments drop out as the group harmonizes in a way that invokes images of Mr. Big's "To Be With You" video. Revolutionary.

BLOG ABOUT:
Some contest that might get them on the Warped Tour. Some contest that might get them on the Taste of Chaos Tour(???). Personally, my vote is for FOUR LETTER LIE to headline the Angry Metal Cliché Pussy Festival.

COMING TO YOUR TOWN:
FOUR LETTER LIE play a TOUR KICK OFF BENEFIT SHOW @ THE QUEST in Minneapolis, MN on June 13.
R.E.M.


LISTED INFLUENCES:
NONE

UNLISTED INLFUENCES:
mortgages. health care costs. Bentley payments.

MEET THE MONSTERS:
I was a huge R.E.M. fan in high school, almost ashamedly so. But pretty much every record after and including Monster was a letdown for me. I'm not as much of an "artistic purist" as those who designate the group's Warner Bros releases as the beginning of their downfall. And I actually was optimistic when they released Up, as it seemed to be going in a new direction. Well, follow-ups to Up have continued in this direction & apparently this direction leads listeners down a very long, drab hallway & into a big, drab room where you curl up on a featureless, drab cot and pass away in your sleep, only to defecate on yourself once your family shows up to ID your remains. It sounds like every song is phoned in, slowed down & then covered in a serum of pop mediocrity.

SONG ANALYSIS:
The band uses the myspace platform to stream their latest album, a big puffy poot of a record entitled Around The Sun. Even Q-Tip couldn't pull this one out of the shitter. But then again his solo records ain't so hot, either.

BLOG ABOUT:
Message From Michael: "we start the [vote for change]tour tonight[philly!bruce springsteen!brighteyes!go go go john kerry!]"

well, that was a grand success, wasn't it?

COMING TO YOUR TOWN:
At Six Flags and local fairs involving pie and hot dog eating contests.
CROWNED KING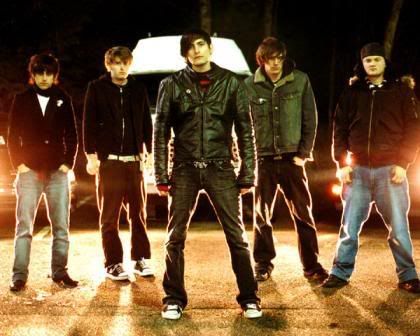 LISTED INFLUENCES:
None.

UNLISTED INFLUENCES:
L.A. Guns. Toni & Guy. Spacehog.

MEET THE MONSTERS:
I love Canadians. They know comedy. And whether they're aware of it or not, they know funny music too: Bryan Adams. The Crashtest Dummies. Loverboy. Alanis Morissette. Shania Twain. Corey Hart. Sum41. Avril Lavigne. Sloan. B.T.O. And on & on… In the fine tradition of jizzing out formulaic slop to be devoured by fat, artless Americans, North Vancouver's CROWNED KING come forward to unleash more mayonnaise rock on the masses. The addition of a trombone (!?) to the West Hollywood gutter glam sound (circa 1987) only serves to upset you, regardless of intent. What they want to sound like Rocket From The Crypt comes off sounding like a fatal bus accident involving a high school cover band doing a cover of Cake doing a cover of "I Will Survive" & Strutter: Dayton, Ohio's #1 KISS tribute act.


SONG ANALYSIS:
"Turn It Up We're Going Down" cold-cocks you in the choad with thin slappy-ass kick drum EQ & guitars drenched in distortion, so rock critics & bloggers with their own college radio show can use phrases like "drenched in distortion" in place of the more obvious description: "these phags can't play worth a fuck."

BLOG ABOUT:
"Jordan and Chonger have decided to move on and persue some other opportunity's that have come their way. We wish them all the best, and we wanted to let you know that this wasn't an easy decision for them or for us, but it was the best decision for everyone. WE WILL RIDE ON."

…in addition, we had to part ways with Jee-Jee, Colonel Wiz-Bang, Boxcar, Smoolty & Lil' Frankie No-Thumbs. But, WE WILL RIDE EACH OTHER ON!

COMING TO YOUR TOWN:
CROWNED KING plays the Verizon Wireless Amphitheater Lot in Kansas City, KS on June 22.
ATOMIC BLONDE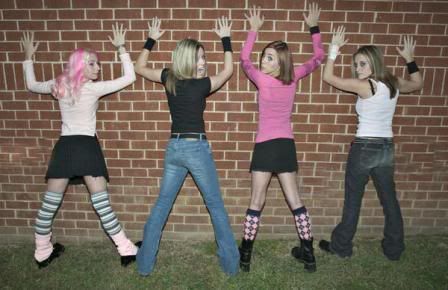 LISTED INFLUENCES:
Well, let's see. Danielle likes Megadeth, Kendra likes Slipknot, Amber likes Sabbath & Dacia likes Perfect Circle. Let's rock, girls!

UNLISTED INFLUENCES:
Jem & The Holograms. Tampons that don't let you down at the beach. That lame chick band that does those cell phone & contact lens commercials.

MEET THE MONSTERS:
ATOMIC BLONDE rock outta Nashville. And by "rock," I mean "amplify their queefs with loud guitars and drums that are free of any discernable, interesting dynamic." And I'm not being sexist. I'm being anatomically metaphorical. If it were a bunch of dudes playing these same songs in the same manner, I'd still think it would sound like vaginal whistling. Conversely, ladies that can & do distribute the rawk accordingly hold sets of metaphoric music balls larger than the members of any given eighteen-piece ska band. Joan Jett's got balls. Bjork has balls. You tell me Janis Joplin wasn't swingin' a huge pair. So what's ATOMIC BLONDE's excuse?

SONG ANALYSIS:
"Come closer and do not be afraid." Yeah, fuck that. "I Am" is the most hideous song I'd heard since "Nightmare," the ATOMIC BLONDE song that proceeded it. Poky and pointless, "I Am" sodomizes your ear with riffage & lyrics that the Scorpions would be proud of & a vocal hook at the end of the chorus that sputters out to eventual conclusion like the flat punchline of a failed comedy routine. However, they get points for penning the line, "open up and allow my love to flow" & giving me something to go giggle about.

BLOG ABOUT:
"We've been getting LOTS of requests for autographed pictures, so for anyone interested please send cash, money order, or cashier's check for $6 to…" Yeah, fuck you.

COMING TO YOUR TOWN:
ATOMIC BLONDE play the Southern Girls Rock and Roll Camp in NashVegas, TN on Aug 5th.
SENSE OF BEING


LISTED INFLUENCES:
Sevendust. Nirvana. Alice In Chains.

UNLISTED INFLUENCES:
Death. Extra Large Pizzas. Death.

MEET THE MONSTERS:
Finally, a band with some balls. Sure, these balls are filled with cum dust and droop like soggy matzos, but they're balls nonetheless. Lots of screaming, artificial harmonics and double bass drumming usher in any given SENSE OF BEING song, commanding the level of attention they so desperately need and never received as children.

SONG ANALYSIS:
AAAAAAAARRRRRRRRRGGGGGHHHHHH!!!

BLOG ABOUT:
S.O.B. is now accepting Street Team applicants.

COMING TO YOUR TOWN:
"With very diverse songs and lyrics Sense Of Being continues to play as many shows as possible inside and outside of South Florida."
MM1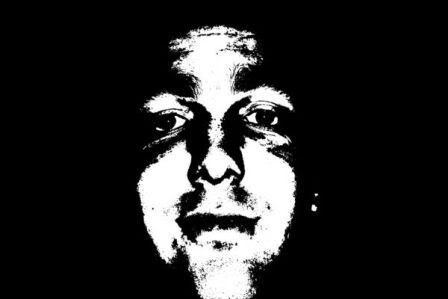 LISTED INFLUENCES:
(JIMMI AND EDDIE ARE A GIVEN) BUT MAINLY…SRV, JOE SATRIANI, ZAPPA, SLAYER, etc. etc.

UNLISTED INFLUENCES:
Tesla Unplugged. Zig-Zags. Santana's fecal leavings.


MEET THE MONSTERS:
MM1 (AKA Mike McDole) attempts the original and you gotta give him credit for…wait. One minute. What's that? Oh, you don't get credit for that? Sorry, Mikey.

MM1 songs are short instrumental arrangements that range in style from flamenco noodling to speed metal, uh, noodling. There is much noodling going on here. McDole makes the guys in Phish seem restrained and subtle when it comes to incessant guitar jerking.

SONG ANALYSIS:
"situations" is a somewhat mellow departure from MM1's other myspace offerings, that is to say he doesn't start dropping the noodle till about two and a half minutes into it. The song is an interesting, awe-inspiring exploration of the endless sonic possibilities supplied by a two-chord progression & retardo-matic drum machine programming and, huh? What? Oh. Again, my mistake. I was thinking of something else. This song sucks.

BLOG ABOUT:
RIP DIMEBAG

COMING TO YOUR TOWN:
As soon as they open a Greyhound station in his town.



CHASOM


LISTED INFLUENCES:
None.

UNLISTED INLFUENCES:
that stripper that they're convinced has a crush on them. child support payments. malt liquor.

MEET THE MONSTERS:
CHASOM is a white rap-rock group from Huntington Beach, CA. They're profile pic is a close-up of a woman cupping her large, surgically-enhanced bosoms. This doesn't surprise you in the least, does it?

SONG ANALYSIS:
"Middle Class Rapper" is heavy and hip-hoppy, but about as soulful as 311 covering "How Bizarre!" The lyrics are spit with the precision of a drooling contest between head trauma victims and the in-your-face, rock-the-mic presentation of it all successfully recreates the sensation of being infinitely deadlocked in traffic, surrounded by jet engines. If I ever ran into any of these guys on the street, I'd admonish them for removing their house arrest ankle bracelet monitors and immediately contact the local police's Sex Crimes Unit.

BLOG ABOUT:
"Pimp out your webpage with PimpWebPage"

Thanks. I'll do that.

COMING TO YOUR TOWN:
CHASOM plays Gallaghers in Hunington Beach, CA. on June 28. (We can only hope & pray that the *actual* Gallagher will be attending this event.)